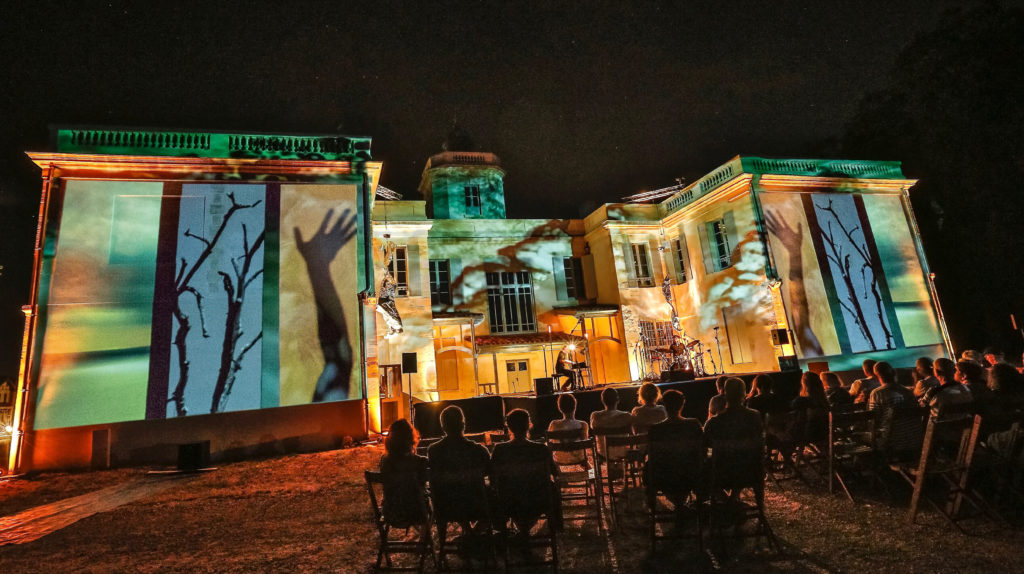 20 years of shows and wonders!
Since 2000, Alcoléa & cie has produced more than 50 creations and presented its shows in France, Spain, Belgium, Luxembourg, Morocco, Canada, the USA and the United Kingdom.
During these twenty years, more than 1000 performances have been performed, which have amazed young and old alike. This page relates the Company's outstanding creations.

– Site-Specific Production: Chateaubriand's House, Châtenay-Malabry (France, 92)
– Site-Specific Production: Gabriel's Garden, Nantillé (France, 17)

–  Site-Specific Production: The Mimizan Priory-Museum (France, 40)

– Les Inattendues (the Unexpected): Original production: Part 3
– Site-Specific Production on the ramparts of Brouage (France, 17) for the Departmental Council of the Charente Maritime and the Joint Syndicate of Brouage-St-Sornin
– Site-Specific Production: The Mimizan Priory-Museum (France, 40)

– Les Inattendues (the Unexpected): Original production: Part 2
– Site-Specific Production: La Couronne Abbey, Angoulême (France, 16)
– Site-Specific Production "Traces" on the Île Nouvelle island (France, 33) for the Departmental Council of Gironde: Walk-through attractions in the main street of "the village"
– Site-Specific Production on Broue Tower in Saint-Sornin (France, 17) for the Departmental Council of the Charente Maritime and the Joint Syndicate of Brouage-St-Sornin
– Site-Specific Production in Arcachon Bay, at the Domaine de Certes, Audenge (France, 33)

–  Site-Specific Production: Wilson bridge, Tours (France, 37)
– Site-Specific Production: The Sarabandes Festival, Rouillac (France, 16)

– Les Inattendues (the Unexpected): Original production: Part 1

– Right in the Eye: Original production
– Site-Specific Production for the Departmental Council of Gironde in Arcachon Bay, at the Domaine de Certes, "ENS" Sensitive Natural Area (France, 33)
– Site-Specific Production at Fénery (France, 79) for the Pays d'Art et d'Histoire of Parthenay Festival and the federation of municipalities (France, 79)
– Site-Specific Production: design and production of the European Heritage Days of Montmorillon (France, 86): Walk-through attractions with monumental projections
– Site-Specific Production of "Traces", a production featuring vineyards and wine, in the cellars of Neuville-du-Poitou (France, 86)

– Right in the Eye: Original production
– Site-Specific Production for the Departmental Council of Gironde in Arcachon Bay, at the Domaine de Certes, "ENS" Sensitive Natural Area (France, 33)
– Site-Specific Production at Fénery (France, 79) for the Pays d'Art et d'Histoire of Parthenay Festival and the federation of municipalities (France, 79)
– Site-Specific Production: design and production of the European Heritage Days of Montmorillon (France, 86) : walk-through attractions with monumental projections
– Site-Specific Production of "Traces", a production featuring vineyards and wine, in the cellars of Neuville-du-Poitou (France, 86)

–  Site-Specific Production: The Nuits Romanes Festival in Loudun (France, 86), upstream TV shoot of the Special: "Des racines et des ailes" (Roots and Wings)
– Site-Specific Production: On-location research, recollection exercise, and compilation of audio and iconographic testimonies to obtain the "Pays d'Art et d'Histoire" label, former Saint Honoré Hospital, Saint-Martin-de-Ré (France, 17)
– Site-Specific Production: The Nuits Romanes Festival in Saint-Sulpice-de-Cognac (France, 16)

– Production presenting a luminous, poetic plastic-arts installation: "Volutes", designed for public spaces and staged at several heritage sites during the Nuits Romanes Festival
– Site-Specific Production: Closing of the Nuits Romanes Festival, Niort Keep (France, 79)
– Site-Specific Production: The Nuits Romanes Festival, in the Saint-Amant-de-Boixe Abbey church and cloister (France, 16)
– Site-Specific Production: The Nuits Romanes Festival, Troglodyte church of Aubeterre (France, 16)
– Site-Specific Production: Plastic arts installation and lighting: The Nuits Romanes Festival, Saint-Savin Abbey (France, 86)

– "In-Ouït?": Original production
– Site-Specific Production: Le Grand Bœuf: Walk-through attractions in the former slaughterhouses of Parthenay (France, 79)

– Alcoléa Piano Solo: Original production
– Site-Specific Production: European Museum Day, Chaumont (France, 52)

– "Ô… Histoires": Multimedia production on the theme of water for public spaces
– Site-Specific Production for the International Exhibition Zaragoza, Spain
– Site-Specific Production for the European Heritage Days on the Quays of Tonnay-Charente for the Departmental Council of the Charente Maritime and the Pays Rochefortais (France, 17)
– Site-Specific Production in the Cognac Marina for the Coup de Chauffe Festival, Cognac (France, 16)
– Site-Specific Production for the Marais Poitevin wetland landowners' syndicate and the Loup Blanc Agency, to celebrate the Completion of the Marais Poitevin Conservation Plan (France, 79)

– Site-Specific Production: Inauguration of the restored Portal of the Church of Sainte-Radegonde, Poitiers (France, 86): Interior and exterior lighting production
– Site-Specific Production: The Nuits Romanes Festival, Parthenay (France, 79)
– Site-Specific Production: The Nuits Romanes Festival, Azay-le-Brûlé (France, 79)

– Site-Specific Production: "Allons z'enfants de la Manu": Multimedia show on the site of the former arms factory in Châtellerault (France, 86)
– Site-Specific Production: Opening show of the Nuits Romanes Festival, Saint-Savin Abbey (France, 86)

– "Jazz Imago": Piano-video performance
– "Ouar!":  Piano-video performance
– "Visions Fugitives": Piano-video performance staged for monumental projections

– Alcoléa Trio: Founding of the Association and of the Piano-Saxophone Duo, then of the Pasoa Piano-Saxophone-Percussion Trio
– Touring France, playing compositions by Jean-François Alcoléa
– Participating in many artistic collaborations, including theater, dance, documentaries, jazz, and concerts with singers in France, Switzerland, Belgium, Spain (sharing the stage with Charles Aznavour, Claude Nougaro, Richard Galliano, etc.)