Jean-François Alcoléa
Pianist, composer, improviser and scenographer, Jean-François Alcoléa stages shows that reflect his multiple universes, combining music and sound compositions, lighting, still images and moving pictures, street arts, dance, texts, and plastic arts installations.
He likes to combine the various artistic disciplines in his creations, merging each piece of the puzzle into a single entity. He also revisits the position and part played by audiences in such immersive performances: from an audio standpoint, and for over fifteen years now, because audiences are often seated at the heart of a multi-channel surround sound system, as in Les Inattendues (The Unexpected), for instance.
From a visual standpoint, also, and in multiple ways, particularly because of the mix of stills with moving pictures, for instance. This is also true of the projection methods and media, whether on screens, on architectural facades, in and around nature/wildlife features, on fencing or, depending on the show, on media that have inspired his creating images in varied protean forms and dimensions, reminiscent of his explorations of multi-channel surround sound.
We also find this sensory abundance in his music, which is a subtle balance between learned and popular music. It is thus thanks to this alchemy that his shows resonate with a very broad audience.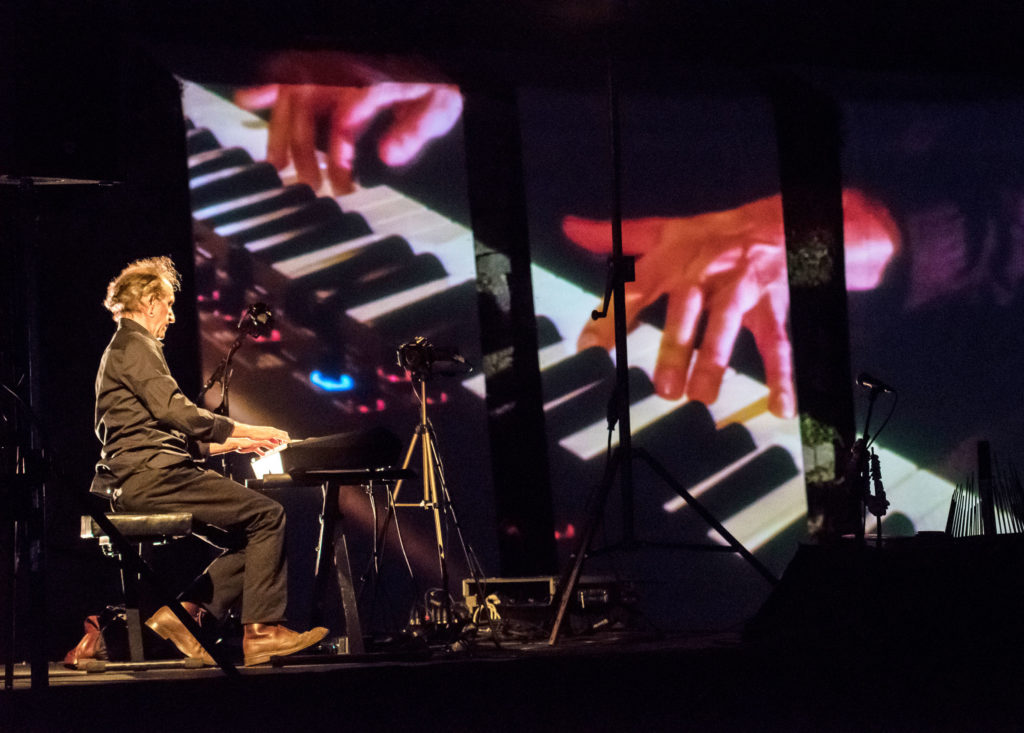 « Jean-François Alcoléa is one of those all-too-rare musicians who make an enduring impression on us thanks to their talent, of course, but also because of their charisma and sweet madness… He is among those who warrant celebrating top creative talents »

– La Nouvelle République, FR –
« The 'jazzy' musical accompaniment by pianist Jean-François Alcoléa and the percussions of his accomplices drew audiences in, like current draws boats along the river »

– Le Courrier de l'Ouest, FR –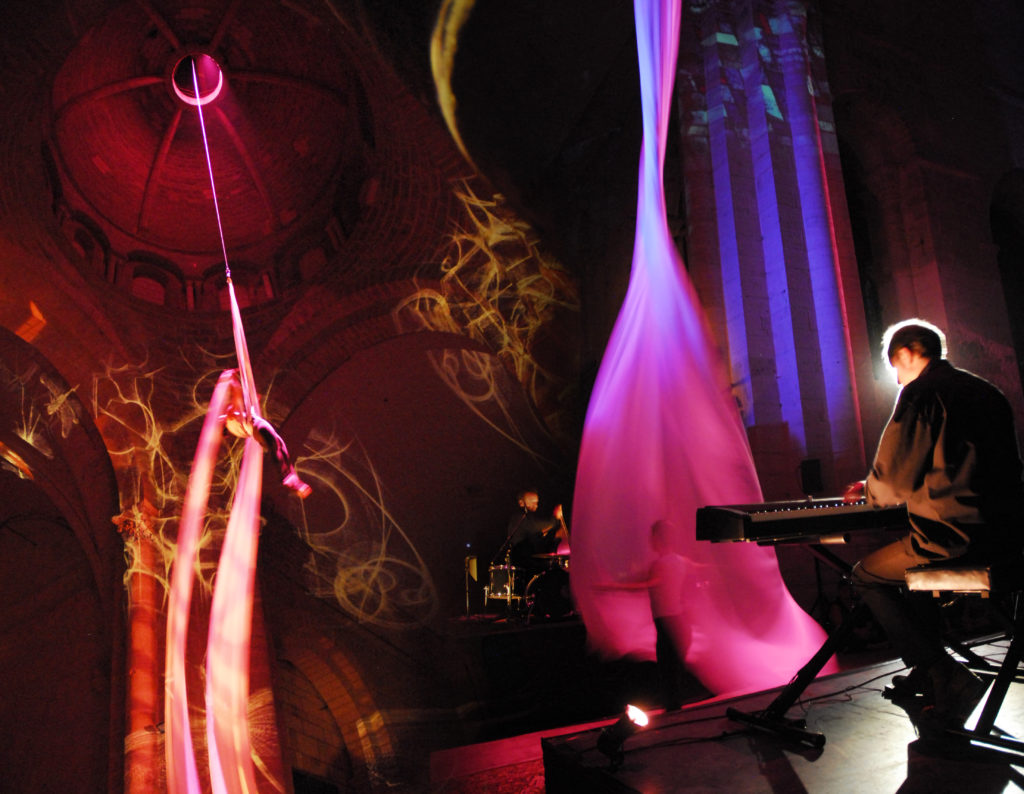 Alcoléa & cie
As of the year 2000, Alcoléa & cie has brought together a resourceful, proactive team of artists, technicians, and plasticians, who work hand in hand to produce top entertainment.
Under the direction of Jean-François Alcoléa, the Company presents multidisciplinary productions for all audiences as well as shows aimed at young audiences.
For over 20 years, the Company has distinguished itself in many corners of the globe: in France, of course, but also in Spain, Luxembourg, Belgium, Morocco, the USA, Canada – both in Quebec and its English-speaking provinces – and in the United Kingdom.
The multi-facetted Universes staged by the Company are as varied as the many different venues where it has distinguished itself, including National Stages, modern music halls, Performing Arts Centers, festivals such as Avignon, Street Art fairs, special events such as the European Heritage Days, the Night of Museums, Reading Night, as well as prestigious World's Fairs.
The company's genuine technical and logistical expertise is manifest in its pluridisciplinary shows and, above all, in its Site-Specific Productions. These are staged at the request of public and private institutions for their own show-management needs but also for special projects ranging from feasibility studies through to permanent or semi-permanent installations, both indoors and outdoors.